WHY USE VIBEX®?
VIBEX® protects the body from continuous vibration common at work and play.

"You know that tingly feeling you get in your hands when you cut the grass? MotoXross Riders call it 'Bar Buzz' "

Vibration can be a nuisance but continued exposure to it can also lead to injury. VIBEX® significantly reduces vibration at important frequencies and reduces the impact felt from shock, making work and play easier and reducing the risks of long term exposure to vibration.



How do I get started?



Easy! Just contact a VIBEX® Engineer at 248-433-3500 or sales@VIBEX.com. Send us a sample of your product and we will determine optimal shot size and placement, inject your product with VIBEX® and provide vibration reduction data for your review.


VIBEX

®

is an engineered blend of a thixotropic damping gel and copolymers. VIBEX

®

provides a shock and vibration barrier between your hands and your work by effectively reducing harmful frequencies that are transmitted to the body.

VIBEX

®

has been independently tested at a major university in numerous applications with consistently high marks. Applications tested range from outdoor power equipment, motorcycle handlebars and golf clubs.

VIBEX® is an injectable gel that flows into any hollow cavity or tube and is useful in a wide range of vibration suppressing applications. VIBEX® can easily be integrated into existing designs with little or no modification. VIBEX® is temperature, water and movement resistant.

VIBEX® is lightweight and does not alter the "feel" of equipment. Sporting equipment can be particularly sensitive to weight. VIBEX® can be an effective way to reduce impact shock, placed in strategic locations that maintain performance.

VIBEX

®

is a cost effective solution to vibration problems. It is inexpensive and a little can go a long way. The

VIBEX® Injectors

are also inexpensive and we can

tool your application

to place the proper amount and location of the VIBEX

®

for maximum damping benefit. The injectors are reliable, easy to maintain and cycle quickly to keep up with the most demanding line rates.

We also offer a VIBEX

®

branding program to help you market your product.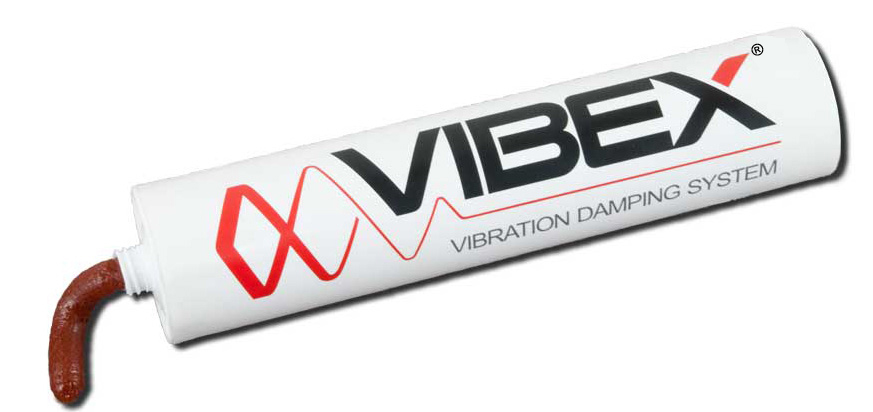 Copyright © 2023 . All Rights Reserved.